I was browsing the Uk Disney Store website today and came across their newest fragrance 'Magic'! I didn't even know it had been released yet! How exciting!? :D
I blogged about the
'Imagination' Fragrance
a couple of weeks ago - while I was in store, a cast member told me the next fragrance would be Mickey Inspired and have a gold Mickey on the front! ... I'd say she was close enough! The new fragrance is adorned with Mickey on the packaging as well as the product itself ... and includes 'Magic' in gold lettering! It looks SO cute!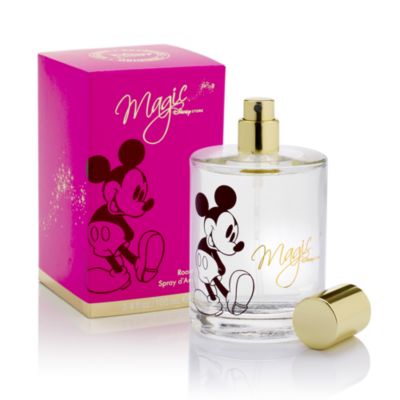 The 4 same products have been released for this collection - A Hand and Body Lotion, a Room Spray, a Candle and a Handwash. This time the scent is described as:
"The sparkling notes of salty-fresh sea spray, freshly mown grass, icy mint, driftwood, wild clover, dark chocolate, musk and moss will infuse rooms with magical fragrance and set an energising mood in the home."
Sounds like Adventures to me! :D
It's safe to say I'll be heading to my local Disney Store this weekend (or sooner!) to snap up some of the 'Magic' products! What do you think of the Disney Stores latest fragrance? Will you be buying anything from this collection? You can check them out online
here
!